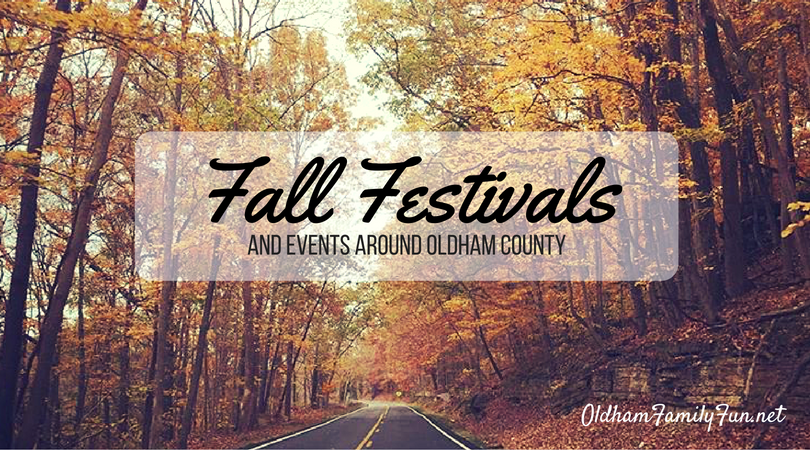 More events to come as Fall draws closer! Until then...get out your calendar!
Don't see an event? Check our Halloween Events List!
HALLOWEEN EVENTS -
HERE
!
SEPTEMBER:
9/4:
FREE!
FamilyPalooza
at Southeast Christian Church in Crestwood, 11am-4pm
9/4:
Summer Send Off
with Ronald McDonald House Charities Kentuckiana at Camp Hi Ho in Louisville (SUPER CLOSE TO OLDHAM COUNTY!) 10am-4pm. $25 admission, covers lunch too. 2 and under are FREE.
9/9:
Henry County Arts & Craft Show
at the Henry County Fairgrounds 10am-4pm
9/9-9/10:
FREE!
Trimble County Apple Festival
in Bedford. Saturday 10am-6pm and Sunday 12-5pm
9/15:
Boy Scout Spaghetti Dinner, Carnival and Silent Auction
at Crestwood United Methodist Church
9/16:
Central Kentucky Celtic Festival & Highland Games
in Eminence. Admission fee. 10am-7pm.
9/23:
Fall Family Campout
at Creasey Mahan Nature Center in Goshen. $25 per person (3 and under are free). Fee includes meals, snacks, activities and more. Check in at noon on Saturday.
9/23:
Shop Fall, Shop Small
at Creasey Mahan Nature Preserve in Goshen, 10am-3pm
9/23:
Vendor Fair
at the North Oldham Lion's Club in Prospect.
9/30:
FREE!
Dixie Soul Fancy Flea
on Main Street in Downtown Lagrange. Food vendors, shopping and live music! 10-6pm
9/30:
Autumn Colors Craft Show
at the LaGrange Community Center 10am-4pm
9/30 & 10/1:
FREE!
Madison Chautauqua Festival of Art
in Madison, Indiana, 10am-5pm
OCTOBER:
10/1:
Skeleton 5k Run
at Wendell Moore Park in LaGrange at 2pm. Registration fee.
10/1:
Enchanted Corn Maze
at Foxhollow Farm in Crestwood, 3-9pm. $5 admission
10/7:
FREE!
Ghost Stories on the Square
at the Oldham County History Center outside in LaGrange, 7:30pm
10/14:
Foxhollow Farm Festival
in Crestwood. Admission is FREE, Parking is $15 (donation to Dare to Care Food Bank) and activities range $1-$4. 10am-6pm
10/14:
Soup, Stew, Chili & Brew
in Madison, Indiana, 11am-5pm.
10/15:
FREE!
IronMan Louisville: LaGrange Festival
in downtown LaGrange. Grab a prime spot to see and cheer on the cyclists as they make their way through the course. Face painting, sign making and children's activities.
10/22:
FREE!
Prospect Fall Festival
with Faith Community Church at Gingerwoods Events Hall, 4-7pm. Bring a donation for Louisville Rescue Mission of towels, trash bags, laundry detergent, pine sol, washcloths or bathroom tissue.
10/28:
FREE!
Prospect Fall Festival and Arborfest
at Little Hunting Creek Park and Prospect City Hall, 12-4pm.
10/28:
Arts & Crafts Day in Pewee Valley
at St. Aloysius Catholic Church, Pewee Valley Presbyterian Church and St. James Episcopal Church. 10am-4pm.
10/29:
Family Fall Festival
at Salt & Light Church in Crestwood. Free food, games, prizes. 4-6pm
NOVEMBER:
11/2:
Holiday Showcase
at the Oldham County Cooperative Extension in LaGrange, 10am.
11/4:
FREE!
Equility Therapeutic Horsemanship Fall Festival
. FREE activities include horse rides, sensory friendly games, face painting, pumpkin painting, bounce house & more! Silent auction benefitting the therapy program.
11/6:
2017 MOPS Holiday Craft & Vendor Fair
at Saint John United Methodist Church in Goshen 6:30-9pm
11/11:
Immaculate Conception Catholic Church Fall Festival and Turkey Dinner
in LaGrange 2-7:30pm.
Facebook
11/11 & 12:
FREE!
Oldham Arts on City Place
at City Place in LaGrange. 10am-5pm
11/18:
Turkey Trotter 5 Mile Run, 4k Walk
at Wendell Moore Park in LaGrange, 8am. Registration fee.
11/11:
South Oldham Fire Department Chili Cook-off
in Crestwood, 12-3pm.