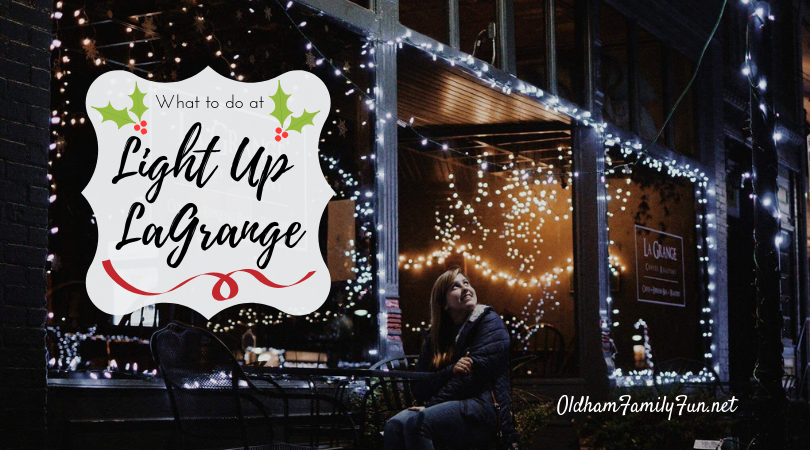 LaGrange kicks off the holiday season each year with
Light Up LaGrange
and there's plenty to do for everyone. Light Up LaGrange is more than a lighting ceremony. You can grab a picture with Santa or the Grinch, make a candy cane, visit an old train car or make some reindeer food. Many of the events are free! The local stores and restaurants are open for shopping and meals, also. Or maybe you just want to take it easy and find a spot to sit on Main Street and take in all of the magical sights and sounds. Whatever you choose to do, we hope your Light Up LaGrange experience is filled with wonder and tons of family fun!
We outlined the day for you and even included a map to help guide your Saturday in Downtown LaGrange. To keep up with updates about the day, make sure you follow the Facebook event
here
.

2018 Information


Friday, 11/30
Southeast Christian Church in LaGrange
is hosting a free community movie night to celebrate Light Up LaGrange. They are showing a "Christmas Movie about a Train" (they can't say the name). The activities are free and they will have refreshments. The doors open at 6:00pm and the movie will begin at 6:30pm.
Saturday, 12/1
7-10am
Hometown Pizza
All you can eat pancakes, sausage, bacon and drinks.
$5 for adults, $4 for kids (cash or check only)
Hosted by LaGrange Elementary School PTA
9-11am
Oldham County History Center - Rob Morris Educational Building
Muffins and a drink, crafts, pictures with the Grinch, player piano activity and "How the Grinch Stole Christmas" movie.
$5 per person
1-3pm
Oldham County History Center - Rob Morris Educational Building
Children can make ornaments. Hot cocoa and cookie decorating are also included. Reservations are suggested, but not necessary.
$5 per person
3-9pm
See the model train displays and tour the dining car.
FREE!
D. Reindeer Food Making
3-6pm
Courthouse Lawn
FREE!
3-6pm
LaGrange Community Center
FREE!
3:30-9pm (Santa break 5:30-6:40pm)
City Place
FREE! (There is a suggested $1 donation.)
D. Lighting Ceremony
6pm
Main Street
We hear Santa will arrive on a decorated firetruck along with a parade of old antique cars and trucks.
D. Meet Santa
6:30-9pm
Courthouse Lawn Gazebo
FREE!
5-8pm
LaGrange Christian Church
$8 adults, $5 children, free for children 3 and under

Even more fun!


H. Live Nativity
Dairy Queen
FREE!
Grab a gift, cup of coffee, ice cream, lunch or dinner at one of the great businesses in Downtown LaGrange.
D. Music, Singing & Dancing
A variety of acts will perform near the Courthouse Square during the day and evening.
B. Oldham County History Center
5-8pm
Grinch in the Museum, strolling carolers at 7:30pm, popcorn popping and chestnut roasting in the Dahlgren Pioneer Barn and a holiday picture taking opportunity inside the barn.