Sometimes you have to take a little drive to find some family fun. Last summer, our family discovered a great splash pad just north of Oldham County. It is set to reopen on July 6th, but with restrictions in place due to COVID-19. Make sure you read about these restrictions before visiting.
To learn more about the reopening of the splash pad for Summer 2020, click HERE. There are several elements (capacity, hours, picnic tables, restrooms, playgrounds, etc) mentioned in this article that might currently have regulations in place.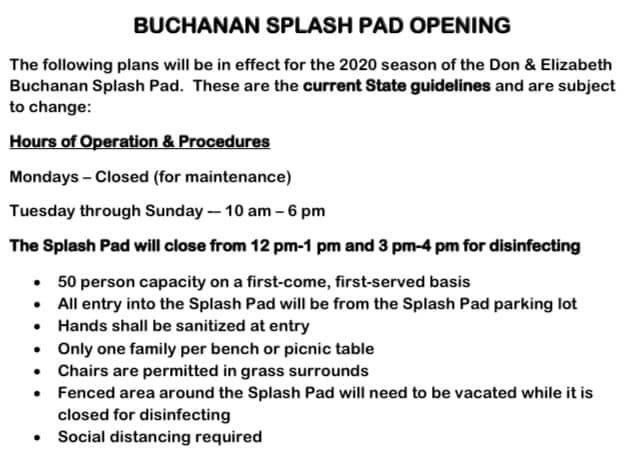 The new Don & Elizabeth Buchanan Splash Pad opened in 2019 in New Castle in the Henry County Community Park. This new splash pad is right next to the Michael Brent Playground on Park Road. The address given to us for the splash pad is 100 Park Road in New Castle. Some maps are unable to locate this address. If you are having trouble finding it, some other businesses nearby are the Henry County Health Department and Cedar Lake Park Place. The entrance is off of Highway 421/55 about a mile outside of New Castle headed toward Campbellsburg.
There are several cool features to the splash pad including a large dump bucket, spinning water fountain and squishy pad kids can jump on to squirt out water. Smaller fountains, smaller dump buckets, water tunnels, two squirt guns and more fun are also throughout the splash pad. There is something to entertain all ages! The red, white & blue splash pad also has a couple of benches around it and two picnic tables with umbrellas.
If visitors want to picnic while they're visiting the park, there is a large covered area with several more picnic tables and restrooms. Or visitors can bring a blanket and sit in the grassy areas surrounding the splash pad. Food is not permitted on the splash pad.
There's more to enjoy during your visit to the splash pad. The Michael Brent Playground is an all accessible playground right next to the splash pad. Children can go back and forth between the playground and splash pad easily and enjoy both. If you want to explore some more, the Henry Community Park amenities includes trails, picnic areas, basketball, soccer, football fields, an accessible fishing pond and the accessible playground.
We will for sure visit the splash pad again soon. The drive from Crestwood to the splash pad was about twenty minutes. We took Highway 146 all the way into New Castle and turned left on Highway 421 to reach the entrance to the community park. At times, there are ice cream trucks set up at the splash pad too. The Henry County Government Facebook page is a good page to follow for updates and other information.
My kids enjoyed playing at the new splash pad and commented that the water was the warmest splash pad water ever. The splash pad was very clean and we liked that the playground was nearby to enjoy as well. The restrooms and extra shade under the picnic gazebo were also nice to have close to the splash pad. We are grateful for this gift to the community from the Buchanan family!
2020 Splash Pad hours are Tuesday-Sunday 10am-6pm. The Splash Pad will close 12-1pm and 3-4pm for disinfecting.