This is a partially sponsored post.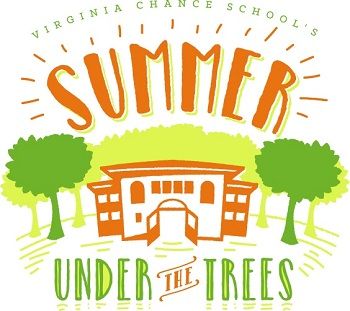 Summer as it was meant to be! Summer Under the Trees is an outdoor camp for the adventurous child, ages 2 years through 5th grade, held on the Virginia Chance School Campus. Summer Under the Trees nurtures children's natural sense of wonder and fosters a lifelong connection to the outdoor world through dynamic child-initiated play and outdoor discovery. Gather with friends and experienced teachers as we explore our beautiful 26-acre campus in a summer of outdoor games, art, music and fun!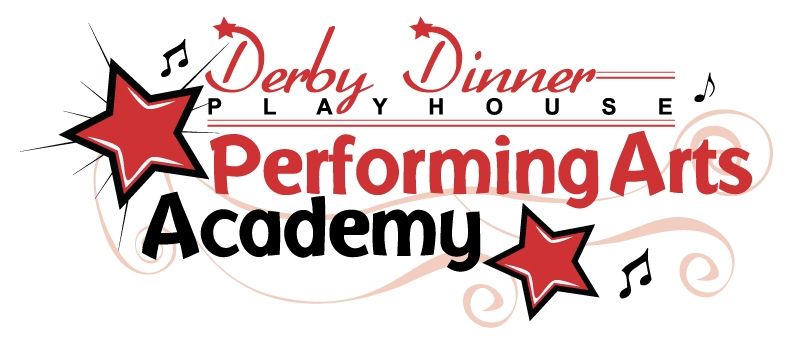 DERBY DINNER PLAYHOUSE
PERFORMING ARTS ACADEMY - SUMMER MUSICAL THEATRE CAMP: Taught by Derby Dinner Playhouse theatre professionals, this one-week performing arts camp, for students ages 7-17, explores drama, music, and dance and ends in a final show on the Derby Dinner stage. TUITION: $175; TIME: 9am-3pm; DATES (5 options): June 10-14; July 8-13; July 15-20; July 22-27; July 29-Aug 3. For info:
derbydinner.com/classes
Limited availability.
Registration opens February 2019.
Camp Loucon has been serving children and youth entering the 2nd-12th grades over 67 years! Campers experience a safe and welcoming community where they are able to discover themselves. The staff and counselors are vetted and trained to care for your individual child. They'll participate in games, hayrides, campfires, s'mores, teambuilding, swimming, canoeing, crafts, archery, hiking, zip-lining, climbing, rappelling, and much more depending upon their grade. Your child will find themselves in a safe, encouraging, loving, and supportive environment. Caring mentors will provide supervision and support throughout their time at Loucon. Campers think of Loucon as a second home where they build friendships, have fun, and grow! Loucon is a Christian camp that will share the love and message of Jesus nurturing campers helping to point them to God, reach them where they are, and to grow! They'll love it!
Visit
Loucon.org
to register! Camp Loucon Leitchfield, KY 270-242-7160
Info@Loucon.org
Internationally-Themed Summer Camps for Every Interest! (Ages 6-12, 9AM-4PM)
5 Cooking Camps
: Chefs work together to create regional recipes that may already be favorites or new to their palettes! They will enjoy the fruits of the work, while learning about the language and culture of Latin America, Europe, France, Asia, and Italy! Many new recipes this year!
Los Artistas
: Campers build their gallery of Latin America arts and Spanish language.
Los Piratas
- A Pirate Camp! Young piratas explore Latin American culture and geography in Spanish.
Multimedia Camps
: La Tournage French Film Crew Campers produce a French cinematic masterpiece in front of and behind the camera! Global News Network Campers report on current events around the globe, learning language, culture, and geography.
International Spy Camps
: Recruits embark on new missions to regions around the world including Asia, Europe, and South America while learning spy craft, local languages, cultures, and geography!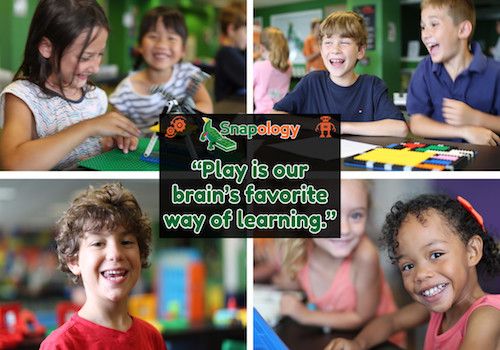 Snapology has tons of exciting LEGO® camps planned this summer, including family favorites like Star Wars, Superheroes, AttackBots, Creature Robotics and more! Plus, fun new camps like Escape Snapology, Movie Making; Planes, Trains and Automobiles, and Amusement Park Adventure! As always, all full-week campers will get to build their own genuine LEGO® mini-figure to keep at the end of each camp. Camp pricing varies by location and number of sessions. Save 10% on select full-day camps before April 1. Lunch stay, early drop-off and late pick-up are all still available at no additional cost. Summer 2019 locations include the St. Matthews Community Center, the Jewish Community Center, GradePower Learning in Middletown, Sayers Classical Academy and more. See why families loved our camps last summer - please visit our summer camps calendar to read full descriptions and sign-up today! Snapology of Louisville
snapology.com/locations/louisville#camps
The Wildest Camps in Town are at Louisville Zoo Spring break camps (pre K – grade 6) are April 1 – 5 (day or week long). Summer week long camps (pre K – grade 8) are June 10 – August 2. Give your kids some wildly fun adventures this spring break and summer. Camps themes include Animal Giants, Fantastic Beasts, Art Safari, Vet Camp, Backstage Pass, Animal Superheroes, Camp Discovery and Rockin' Reptiles. Each camp is designed for specific grade levels so campers learn and share with their peers. All camps include Zoo walks, presentations, attraction rides and up-close encounters with Zoo ambassador animals. The convenient car line drop-off service, 8 – 9 a.m., and extended pick up hours, 4 – 5 p.m., are a big hit with parents. Register at
LouisvilleZoo/camps
. Register for summer camps by April 7 for an early bird discount (must use promo code EARLYBIRD)
At
All About Kids
, our day camps are high-energy, all-day fun that's far from ordinary. What sets us apart from other camps in the area are our instructional classes with highly skilled and experienced staff. Kids will learn skills in gymnastics, dance, martial arts, swim, and MORE! Your child will interact with other children, play games, learn sports skills and enjoy different camp themes each day. Our caring staff will nurture your child through days and weeks of camp fun! Each and every day features swimming (ages 6 and up), Open Gym, instructed sports classes with our staff, crafts and more! Save your spot and register today!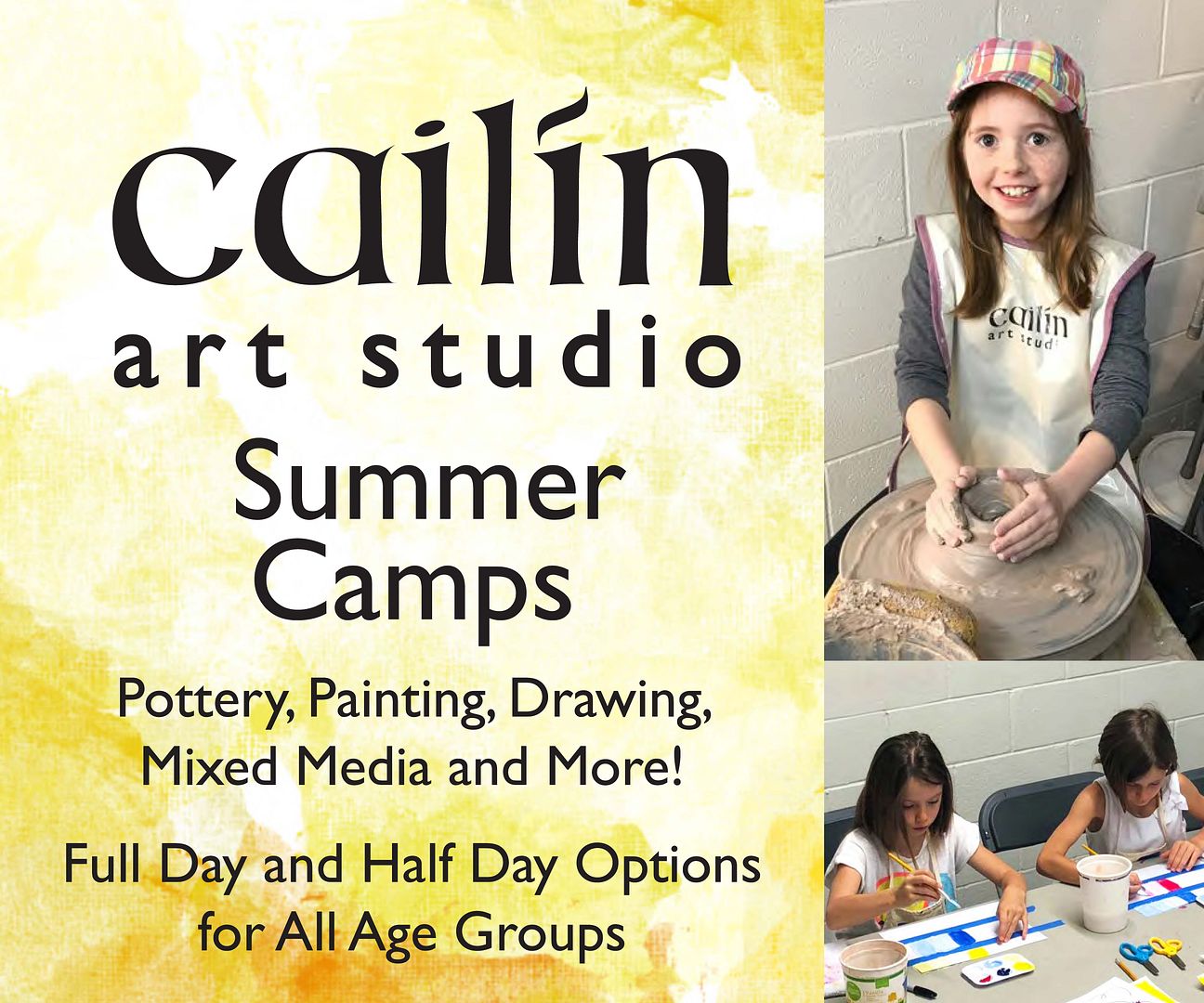 Enrich your budding artist during our Visual Arts Camps available in a variety of mediums this summer! We offer full day and half day options for kindergarteners all the way through high schoolers. Campers will have a blast exploring different drawing and painting techniques, constructing unique sculpture from clay or found objects, trying out the pottery wheel, or creating their own design in jewelry. Whatever their artistic passion, we have a camp just for them! Small class sizes offer plenty of one-on-one instruction with our excellent teachers, but it also means spaces are limited so early enrollment is encouraged. Visit
www.cailinartstudio.com
for more information and to register. Get a 10% discount for siblings or multiple camp enrollments with code CAMP2019 at check-out on our website.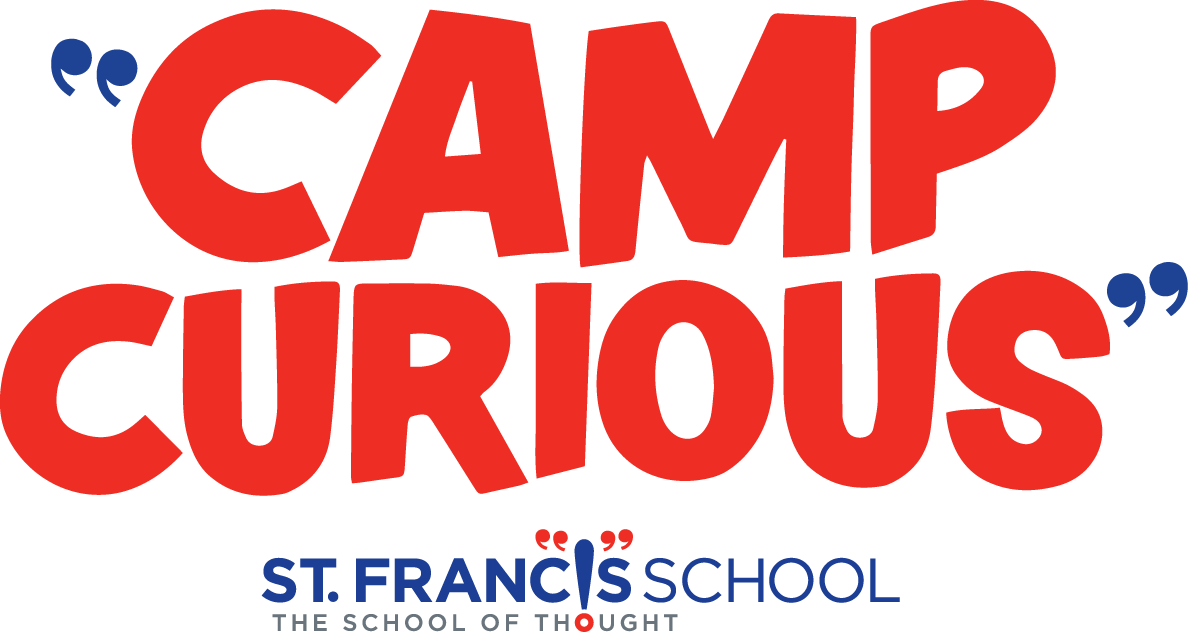 Experience 64 acres of summer fun in Goshen during St. Francis School's "Camp Curious" full and half-day camps. Open to ages Preschool through 8th grade, campers will enjoy outdoor adventures including nature walks, garden time, and visits with our farm animals. Preschool (ages 2-years-old to 5-years old) half-day camps run June 3rd – July 12th, Monday - Friday, from 9:00 a.m. - 1:00 p.m. with bi-weekly themes guiding new experiences. Themes include Treasure Hunters, Artful Explorations + Science Experiments, and Puddle Jumpers. Option of two, three, or five day sessions and add-on of Early Morning Play starting at 8:00 a.m. Kindergarten - 8th grade camps run May 28th - July 25th with full and half-day options Monday - Friday starting at 9:00 a.m. Specialty camps include Camp Invention®, Bricks 4 Kidz®, musical theater, art, STEM, academic offerings provided through our partnership with the Langsford Learning Acceleration Centers, and more! For more information, please visit
www.StFrancisSchool.org
or contact Kelli Carter at 502.795.3860 or
KCarter@StFrancisSchool.org
.
A STEM day camp where every child is a scientist! We offer a large variety of fun and interesting camps including Video Game Design, Veterinary Medicine, Minecraft programming, Engineering, Space, Paleontology, Biology, Chemistry, Oceanography, Robotics and much more! Each camp inspires interest in science and technology by involving kids in the creation of hands-on experiments and take-home projects for children going into PreK through 8th grade. Many of our camps have expertise of visiting professionals too. For example, campers will hear from actual veterinarians and crime scene investigators for Emergency Vet and CSI camps. We also incorporate recreational time to allow brain breaks and friendship building, ensuring the best time for your child. Camps are Monday through Friday 9 AM to 4 PM with pre and post camp care available. Camps are $265+ per week. We have one location in Oldham County this summer as well as additional locations in Louisville and Lexington.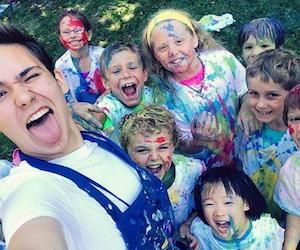 We are in our 7th year of camp and are excited to focus on five more uniques artists to our summer camp this year. Along with our camp favorites, we have added five new camp themes including our much-anticipated SLIME ART CAMP! 2019 Art Camp Themes: Sharks or Mermaids Glitter & Glow Harry Potter Wizards & Magic Slime Art Dinosaurs or Unicorns Superheroes Fairytastic: Fairies, Elves & Gnomes Lego Masterpieces Messy Ooey Gooey Splishy Splashy Animal Planet It's a Disney World Multiple camps themes offered every week through summer. June 3 through August 9 Morning: 8:30-11:00 Midday: 11:30-2:00 Afternoon: 2:30-5:00 Age groups 4-6, 7-9 and 10-12. Cost: $95-$135 All Day options and One Day camp options available. Discounts for siblings and all-day camping. Space is limited. Register early! WhetYourPalette.com 502-438-8865
Classic Melodies offers musical theatre camps with traditional camp activities included. Sing, dance, act, jam and perform a showcase at the end of the week. Three great Camps for Three different age groups!!! Check out more information and register your child via
https://www.classicmelodies.org/camps
CMPI Broadway Bound Camp - held at Cedar Ridge Camp - July 21st - 27th (ages middle school and up). Featuring the musical Guys and Dolls!!! Storybook Musical Theatre Camp - June 24th - 28th (ages 3-6). Held at the Classic Melodies studio. Featuring Disney Princesses & Comic Book Super Heroes!! CMPI Young Performers Day Camp - July 29th - August 2nd (elementary ages). Held at the Classic Melodies studio. Featuring the musical Aladdin KIDS!!!
See more camps on
LouisvilleFamilyFun.net
Camp Wayfarer
is a self-discovery / career exploration camp for teens launching this summer on July 22nd to July 26th led by Ashley Lamb-Sinclair, 2016 Kentucky Teacher of the Year and Founder / CEO of Curio Learning.
The camp includes a daily walking tour of diverse Louisville businesses and opportunities to learn from the successful leaders who have built sustainable lives and organizations in our community, in addition to guided reflection and personal exploration so teens can begin to understand their own passions, talents, and opportunities. We're also partnering with community leaders and advocates such as Forest Giant to support the campers and the program. To learn more about the Camp Wayfarer experience, go to
www.campwayfarer.org
or email our team at
campwayfarer@gmail.com
for more info. For families in need of assistance, we are offering some sliding scale registration fees and scholarships.
The first 10 campers will receive 20% off registration. We're also offering a 15% discount after registration for recruiting additional campers (up to 2). Email
campwayfarer@gmail.com
for discount codes and info.
More camps for Oldham County Kids (in alphabetical order)
Some camps have not updated their website to reflect 2019 information. Check back for updates.
All About Kids
(Crestwood) - See ad above.
Cailin Art Studio
(Crestwood) - See ad above.
Camp Hi Ho
(Louisville) - Camps beginning in June and ending in August. Ages 5-13. 9:30am-3:15pm $275/week.
Chance School Summer Under the Trees
(Louisville) - See ad above.
Circle Bar C
(LaGrange)*
Club Sci Kids
(Louisville) - See ad above.
Creasey Mahan Nature Preserve
(Goshen) - Join us for 4 days of fun! Hiking, exploring, nature crafts, tie dye, hayrides, games - everyday is an adventure. Campers entering 1st grade - 6th grade. 6/18-21 and 6/25-28 $165/week (sibling discount offered).
Farm & Forest Summer Camp
at Foxhollow Farm (Crestwood) - June 17-21 8:30am-3pm. Open to ages 4-9, $250
Gillman's Dance Academy
(Crestwood) - These camps are open to children 3-7 years old: 6/14 Spa Day, 6/21 Backyard Beach Party, 6/28 Ballerina Bake Shop, 7/8-11 Rainbow Unicorn Dance Camp, 7/15-18 Princess Ballet Camp.
GlenAyre Equestrian Centre
(Crestwood)*
Little Colonel Players
(Pewee Valley) - June 10-14 1-4pm
Louisville Zoo
- See ad above.
Oldham County 4H Camp
(Lake Cumberland) - 7/22-26 for ages 9-13 8 year olds entering 4th grade.
Oldham County Cooperative Extension Office Kid's Cooking Class
(LaGrange, Buckner area) - June 18-19
Oldham County History Center
(LaGrange)*
Oldham County Schools Arts Center
(Crestwood) - Several camps throughout the summer for all ages.
Power & Grace Gymnastics and Dance Studio
(Prospect) - Offering 2 Warrior camps, 2 Cartwheels and Creations camps and 1 Cheer/Tumbling camp. Dates on their events page (more information for these camps will be posted on their website soon). M-TR 8:30-12:30 $165. Ages 3+
Singing Tree Stables
(Crestwood) - Offering a variety of camps for kids of all ages and riding abilities. Camps include games, crafts, and of course, lots of riding! Day Camps (All Riders): June 12-14, July 24-26, August 23, August 30. Unicorn Day Camp (Riders 12 & Under): June 28.
Advanced Overnight Camp: August 7-10.
South Oldham Boys Basketball Camp (Crestwood) - 7/15-19 camp for 6th, 7th & 8th graders 12:30-4pm and 7/15-19 camp for 1st-5th grades 8:30am-noon.
St. Aloysius School Camp
(Pewee Valley) - Camps offered 2 days - 5 days a week, 7:30am-5:30pm. Camps usually begin the first full week after school is over for the year.
St. Francis School "Camp Curious"
(Goshen) - See ad above.
Stone Creek Camp
(Crestwood) - CAMP 1 June 17-19, CAMP 2 June 24-26, CAMP 3 July 15-17, CAMP 4 August 5-7
Sweetness
(Crestwood) - Cooking Camp June 17-19
Whet Your Palette
(Lousiville) - See ad above.
Windhover Farm
(LaGrange) - 2019 camp dates are June 26-28, July 8-10 and July 31-August 2. Teen Camp in August. Check back for the dates.
Yew Dell Botanical Gardens
(Crestwood) - Louisville Visual Arts Camp: Art in Nature. 6/17-21 and 7/8-11, 9am-12pm for ages 7-12.
YMCA
(Buckner) - Camps for ages 4-14, various weeks.
Zubrod Stables
(Prospect) - 6/24-26 & 7/29-31 Facebook info
here
.
Unicorn Camp
6/12 & 7/17